The Roles and Permissions module is a role-based access restriction tool for your firm, allowing you to restrict the access of users, based on their role within your firm.
If a particular user group (i.e. role) in your firm has not been granted permission to access a particular feature or function, then the particular feature or function for that user group will be greyed out to indicate that they do not have appropriate access permissions.
Example
If you do not provide Seniors with permission to view the Staff List (see Image 1) then staff assigned to the role of Senior will have the staff list feature greyed out, with a message advising them that they require additional permissions to access the matrix (see Image 2).
Image 1: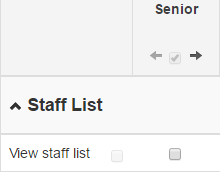 Image 2: