The Activity Feeds widget provides you with a live feed of the activities which have occurred on any of the files which are assigned to as part of the engagement team. Activities that appear in the feed include, for example, new files created, completion of files, Deletion of Files, review points added, accounting structures that have been applied or removed, and so forth.
You can think of the Activity Feeds as being similar to the news feed on Facebook or Twitter, providing you with customised updates relating to your firm and files.
Any update in the Activity Feeds can be accessed directly by you, by simply clicking on the blue file or specific work paper hyperlink in the widget.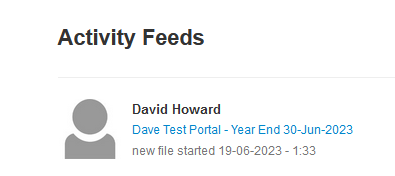 The widget on the dashboard only displays the five most recent activities. To access a full listing of the entire activities click on the view more tab, or click on the Activity Feeds tab located on the top navigation bar.

Once on the full Activity Feeds listing screen, you can access the history of Activity Feeds, using the numbered navigation bar at the bottom of the screen to access various pages of the history.

NOTE: The Dashboard is fully customised for each individual user. No two dashboards look the same!