The below image clearly defines what a section, lead schedule and balance are on the Audit Plan for your reference. Each of these items will be explored in detail on this page.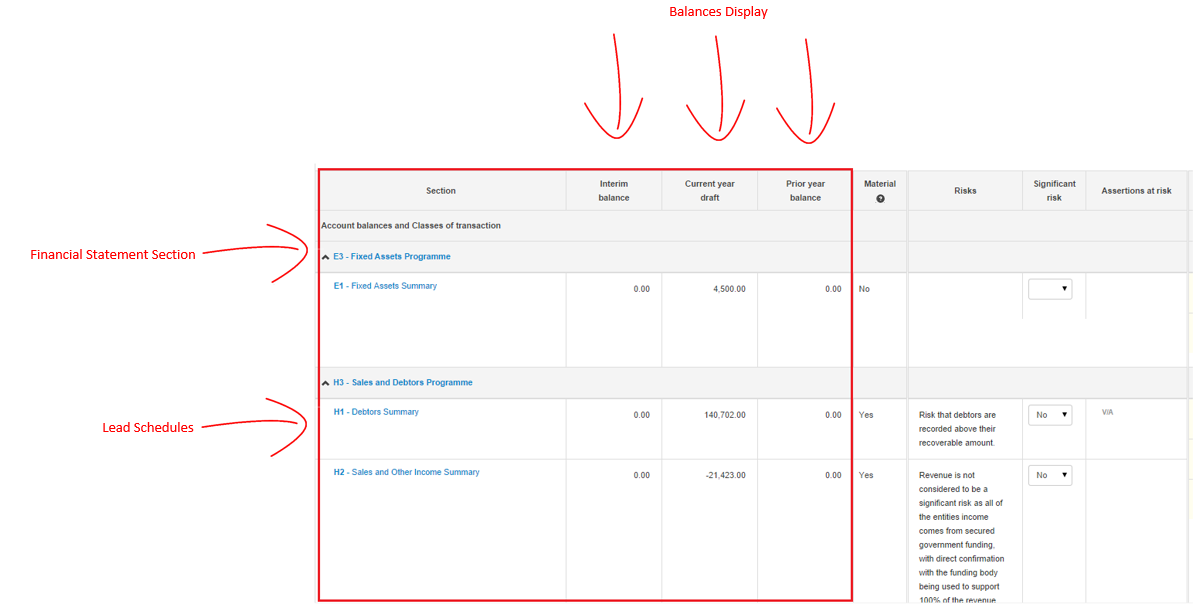 Sections
Each section in the Audit Plan represents a financial statements area folder from the Working Paper Index and is driven by the audit programmes from those folders.
Using the below example, we can see that we have an E Fixed Assets folder in the Working Paper Index, with this being inserted into our Audit Plan as separate section.

If you do not see a section from your Working Paper Index which you would expect, it is likely that the Lead Schedules for the section do not have any balances appearing on them and are therefore hidden.
To reveal these hidden sections and lead schedules, simply tick the Display Zero Balances option from the functions toolbar at the top of the screen.

Lead Schedules
Depending on your choice when you first access the audit plan you will either have the Lead Schedule Summaries or individual Lead Schedules being displayed in your Audit Plan. For simplicity purposes, we will refer to both of these collectively as Lead Schedules.
Only Lead Schedules with balances or which have risks attached to them will be displayed by default in the Audit Plan. This is to ensure that the information being displayed on screen is succinct and relevant to your audit.
If at any time you want to view all of the Lead Schedules, then simply tick the Display Zero Balances option from the functions toolbar at the top of the screen.


Lead Schedule Drill Down
If at any point you need additional information about what a particular balance is comprised of in the Audit Plan, you are able to quickly and easily drill down into the relevant Lead Schedule to review the trial balance accounts which comprise the balance. To do this, simply:
Identify the balance which you want to know more about
Click of the hyperlinked Lead Schedule name on the left of the screen

Tip: We recommend opening this as a separate tab by holding Ctrl on your keyboard and left clicking on the link
You will now be take to the lead schedule providing you with each Trial Balance Account which comprises the balance displayed on the Audit Plan
Balances Display
The Audit Plan will display the Interim, Current Year Draft and Prior Year trial balance for quick and easy reference and comparison across all periods. To take full advantage of this, we strongly recommend that you import the client trial balance utilising our Trial Balance Import function or IRIS Accounts Production Integration.
However, if required you are able to override the balances shown on screen, as follows:
Ensure you are in the Audit Plan and ideally in Full Screen Mode
Identify the balance which you want to manually insert or override (e.g. Current Year Fixed Assets balance)
Hover your mouse over the balance until the lock icon appears
Click on the lock iconto open the cell

Override the cell with the desired value

Click anywhere on the screen and the changes will automatically save. The cell area will turn to a shade of red to indicate that this has been manually overridden

If you want to undo the manual override, simply:
Hover over the right hand side of the overridden number to reveal the dropdown arrow

Click on the dropdown arrow and select Revert back to original value

You have now successfully reverted the value back to the original and the cell will be linked to the value displayed on the Lead Schedule