MyWorkpapers completion statistics in the Working Paper Index provides visibility over the Progress (for each Sign-Off status) and Completion of the file.
In the Working Paper Index there are three levels of completion statistics, which are:
Each of these levels is detailed below.
TIP: Use the completion statistics as a guide to how far through the file you are and contrast this to your engagement budget to help avoid any budget overruns
Sign-Off and Complete Workpapers
All of the statistics are sourced from the Sign-Off and Completion of the Individual which can be found at the top of every document in MyWorkpapers.

Marking a workpaper as completed will make the file read-only, and can only be ticked by staff members who have been granted access in the Roles and Permissions module.
Individual Workpaper Statistics
The first level of completion statistics is the individual workpaper level, which will display whether a workpaper has not been started (shown as blank in the status column), in progress (Sign-Off status) or finalised.


The status of completion is driven by various activities completed in the individual workpaper and is summarised in the following table: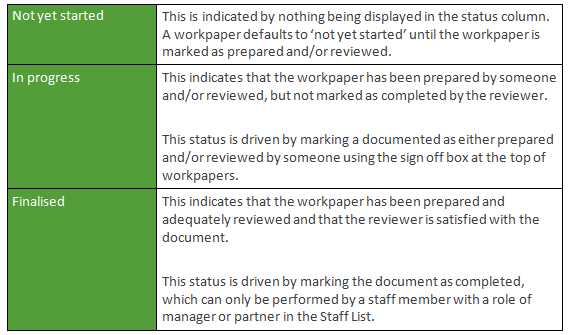 Folder Statistics
The second level of completion statistics is the separate folder level, which will display the status of the Individual Workpapers contained in the folder for the selected Sign-Off status.
To view the desired Sign-Off status to see the progress of the file select the Drop-down under "Working Paper Index" and select from "Complete (Default) or the Individual Sign-Off statuses applicable to the file.

The folder statistics are displayed by the marking of each workpaper against the selected Sign-Off status
Note that in addition to being marked as in progress or complete, the folder also displays the status percentage of the folder.

Overall File Statistics
The final level of completion statistics is the overall file level, which displays the total number of not started, in progress, the selected Sign-Off status, and completed workpapers in the file.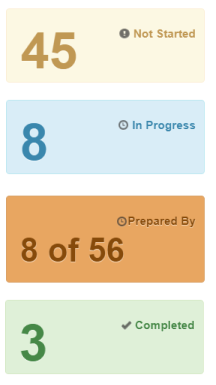 In addition, on the file details screen in the My Files menu, you can also view the percentage of completion of the file.

The file will however not be marked as 100% complete until the Partner has completed their completion declaration.