Initial Period
To create a Periodic file (either Monthly or Quarterly), you must first have created a year-end file. If you do not know how to create a year-end file, please see Creating a new file.
Once the year-end file has been created, follow the steps below to create a periodic file:
1. Click on My Files.
2. Search for your year-end file in the search filter and click on it to show the details of the file.
3. Within the file details you will see a tab called Period Workpapers File which can be opened by clicking the expand arrow on the right.
4. The Monthly and Quarterly tabs will be visible. Click the New Monthly File or New Quarterly button
5. Select the appropriate File Workpaper Pack, confirm the Year-End File is the correct one, and finally select the Month or Quarter that is required.
Note: The year-end file will default to the client selected in step 2
Accept the user agreement and click Create New File
Subsequent Period
Creating a file in a subsequent period is the same as creating a file Initially however you will be presented with some options to roll forward any data from a prior period.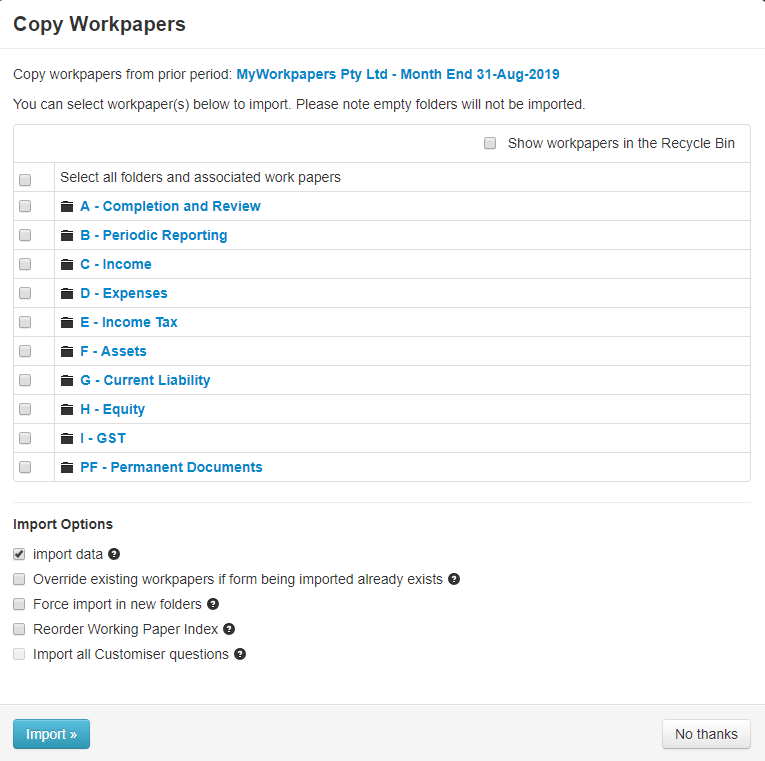 Select the Workpapers you wish to roll forward.
The following options are available: