With the ability to now roll-forward risks from one year to another, we have introduced filters when viewing.
Firstly go into the Risk section accessed from anywhere within your file;

From within the Risk section, you can click into "Search Risks" to see the multiple filter options;

Options available;
Search text field: Filter Risks with the matching text in the Risks' Description
Form Ref: Filter Risks with attached workpaper references within the W/P References, Lead Schedules or Supporting Document Workpapers
Significant Risk: Filter significant Risks
Risk Assessment: Filter Risks categorised in the Risk Assessment table (i.e. "RMM at Financial Statement Level" or "RMM at Assertion Level")
Audit Plan: Filter Risks based on which section of the Audit Plan it refers to
Archived Risk: Filter Risks by archived/unarchived status
Prior Year Risk: Filter Risks to show/hide Risks carried forward from the previous year
Once you have selected your custom filters, you can then use the search button to view;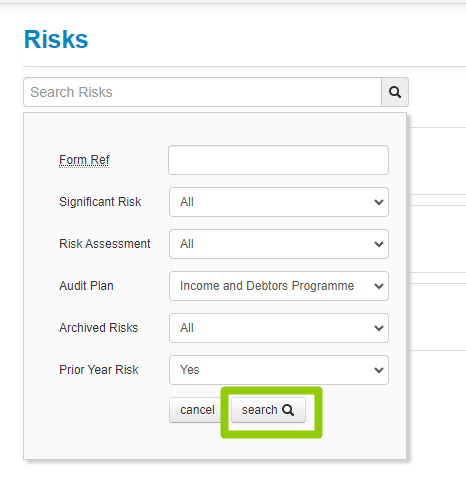 Resetting Filters
Once filters have been applied, you are able to clear these and return to your original default results by using the Reset Filter button.